Hydraulic Ironworkers.
Strong, Versatile & Reliable.
CNC Lines and Solutions.
For working Angles, Flat Bars, Plates and Beams.
Accessories and Consumables.
For GEKA Hydraulic Ironworkers and CNC Lines and Solutions.
Steel and Metal Working Machine manufacturer since 1919.

Hydraulic Ironworkers.
GEKA Universal Hydraulic Ironworkers: Precision. Durable. Reliable. Customizable.

Punching CNC Lines and Solutions.
Fully-automated CNC Lines for Punching, Marking and Shearing Angles and Flat Bars.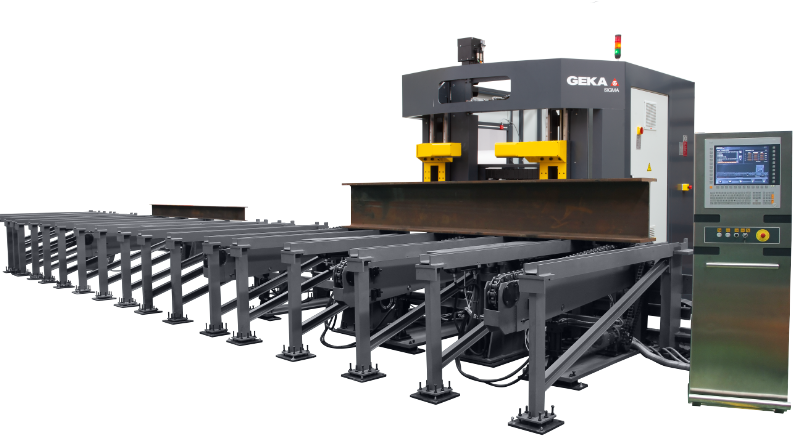 Drilling CNC Lines and Solutions.
Fully-automated CNC Lines for Drilling or Marking Plates, Angles and Beams.

Feeders and Positioners.
Our CNC Positioners and Feeders let you increase the productivity of your GEKA Ironworker.

Consumables: Punches, Dies and Blades.
We have the consumables that your machine needs. We manufacture and supply consumables with GEKA quality standard.

Standard and Optional Accessories.
We have the tools that your GEKA Machine needs. We manufacture optional accessories for specific jobs.
Plasma and Laser Solutions.
CNC Plasma or Fiber Laser Cutting Solutions for Sheet and Profiles Processing.
More than 85,000 satisfied customers 
We purchased our first machine in 1999, improving our production capacity. The experience was so good that in 2007 we purchased a second machine and continued with the two of them until 2020, when we acquired a third.
 They stand out from the rest for their versatility and durability. After 20 years, with good maintenance, our first machine is still working well.
Margarita Cuervo / DIRECTORA
WIGEVA, S.A.
We've been working with GEKA for more than 20 years, specifically with the punching machine model Hydracrop 110. This machine has not had a single breakdown. Reliability, precision and versatility are what define this great machine.
Highly recommended, it's a pleasure to work with such professionals.
Daniel Peñas Hilario / GERENTE
FERRAGUINOX S.L.
We have a Bendicrop 50 we use to manufacture all types of parts. We bought our GEKA after a good look at the lower-priced market, but the price difference has given us much higher quality than we expected. It's an essential tool in our business. We're happy we purchased a GEKA.
Arkaitz / GERENTE
Hijos de Teodoro Iriarte
GEKA News, Fairs and Events
GEKA has 100 years' experience manufacturing hydraulic shears and punching machines. Over the course of this period of time, our in-house technical department has developed different machinery models to fulfill the needs that have arisen in the industrial market, as...