GEKA's hydraulic punching shears from its Hydracrop Series are characterized by being very versatile machines with the capacity to transform all types of steel profiles and flat bars.
The Hydracrop Series consists of hydraulic punching shears with two independent cylinders, which translates into two simultaneous workstations, both with a good speed generated by a powerful hydraulic unit. Two operators can work on them simultaneously, considerably increasing the production capacity of a workshop or factory.
5 Workstations
Each of these hydraulic punching shear models is equipped with five workstations.
Bar cutting, shearing, notching…
In one of the independent cylinders we can work on cutting round or square bars, cutting flat bar or plates, or shearing profiles as well as cutting angles with different inclinations, and notching, which can be triangular or rectangular.
Manual triple punching
In the other independent cylinder we find the punching station. In this case it is equipped with a manual triple punching selector. This selector is located above the punching station and allows the operator to operate any of the three punches of the triple punching station. Providing this with three different punches allows us to avoid needing to change the punch each time we need a different diameter or shape. This greatly increases the productivity and precision of punching work.
Cutting tables with guides
The flat bar cutting and notching stations are equipped with cutting tables with guides in millimeters (also available in inches) that facilitate the positioning of the pieces on each work table. When flat bar cutting, the guides can be oriented to obtain different cutting angles. In the example shown in the video you can see that we've replaced the punching station's large table with stops by a multi-stop table that further increases the production capacity and versatility of the Hydracrop 110PD hydraulic punching shear.
Wide range of optional equipment
It's also worth pointing out the wide variety of optional equipment available for the two-cylinder hydraulic punching shears from the Hydracrop Series. These accessories add greater versatility to the Hydracrop 110PD. From different notches (such as tubular or triangular), blades for cutting U and I profiles, or the electric stop that allows greater precision and productivity in cutting operations for flat bars and profiles.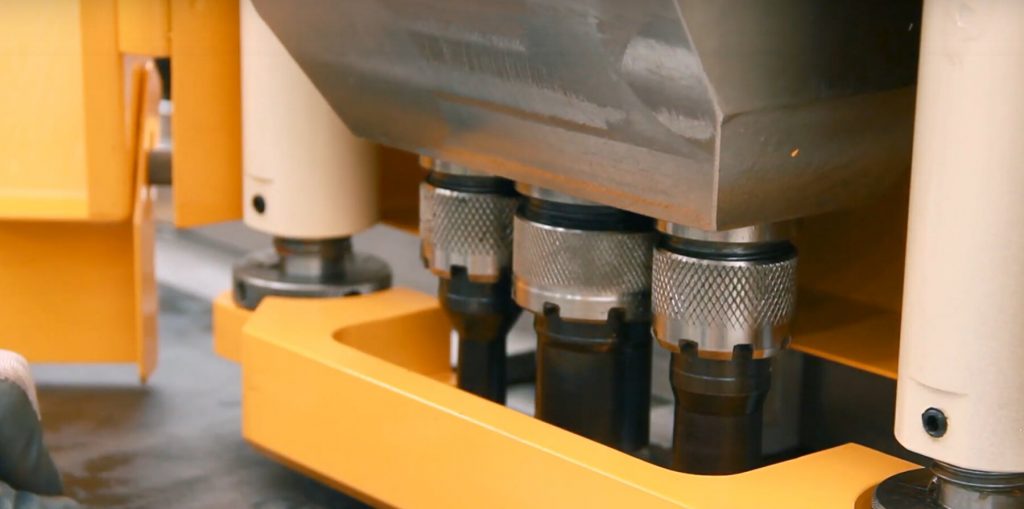 5 Different power levels
The Hydracrop Series of two-cylinder hydraulic punching shears is available in five different power levels, ranging from 550 to 2200 kN. Thus covering the needs of a wide range of sectors, from anchors or boiler making, to high-voltage towers, oil platforms or civil engineering. The SD version of the Hydracrop Series also features a frame with a deeper throat and a structure suitable for sheet metal work.